The Father of beatnik, William Burroughs, devised a technique by which one's writing may be cleansed of its cultural and semantic bias. This technique has since been known as
The Cut-Up
. As Burroughs himself commented: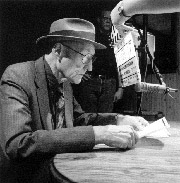 All writing is in fact cut-ups. A collage of words read, heard, overheard. What else? Use of scissors renders the process explicit and subject to extension and variation. Clear classical prose can be composed entirely of rearranged cut-ups. Cutting and rearranging a page of written words introduces a new dimension into writing enabling the writer to turn images in cinematic variation. Images shift sense under the scissors smell images to sound sight to sound to kinesthetic. -

link to more Burroughs quotes on Cut-up
Today I found myself gripped by the urge to do cut-up myself and so, using a couple of automatic cut-up generators I found on the internet (
Non-Linear Adding Machine
&
The Lazarus Text-Mixing Desk
), I began to experiment.
Taking a chunk of text I have been working on (for a young-adult novel) and editing the disjointed cut-up into a more manageable form
I acheived these results
.
[
...See full post here...
]
Try it yourself at the links above and please feel free to come and share the results here or
on the main site
...
And remember
Language is a Virus
...