Tuesday, March 01, 2005
→ by
Danieru
Name
: Daniel Rourke
D.O.B
: 14th March 1982
Size
: Huge
E-mail:
Click here...
Bio:
I am a writer, researcher, educator and artist. My work is concerned with re-articulating the digital in light of current debates surrounding posthumanism, and is predominantly realised through critical fabulations that treat everything as a science fiction.
Current Website:
MachineMachine.net
Follow on Twitter:
@therourke
Currently:
I have an MA in Writing from Roehampton University, and am currently undertaking a PhD in Art/Writing at Goldsmiths University, London. Much of my writing eventually finds itself online.
My new site/portfolio/archive
MachineMachine
is a much better reflection of my current interests than this website.
The Huge Entity has lay dormant now since 2007. Reading back my posts on this site can sometimes make me cringe, but overall I am proud of the impact this site made in its day. If you enjoy the writing here I urge you to visit
my new website
or browse
some of the contributions
I made at
spacecollective.org
.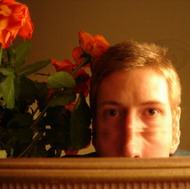 Name
: Robokku
Created
: 2nd December 1981
Confusion Tolerance Threshold
: Huge
E-mail:
Click here...
Bio:
Robokku seems to be a meat-based device most notable for his inability to:
1.
stop trying to make sense of things
2.
make sense of things
The things of which he tries to make sense have yet to be pinned down precisely, but one of them is a particular
sensation
, which seems to result from the cyclicle nature lent to his existence by the above two incapabilites. This testimony should be taken with a pinch of salt, since Robokku investigates the things he does by organizing them into manageable systems which distract from the disorganised nature of the things being investigated. Or so he thinks.
Despite all this, there is a strong possibility that Robokku is a figment of Danieru's imagination - an unconnected jumble of ideas refusing to be claimed by any individual out of fear of disturbing, by categorization, the natural lack of order of things.