Friday, September 30, 2005
→ by
Danieru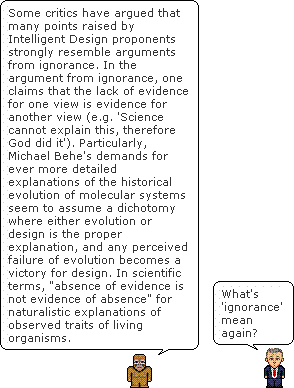 The debate on
Intelligent Design
vs
Evolution
has been flooding through the blogsphere like some cleverly conceived primeval super-goo this week. Screw what I have to say on the issue, what about the rest of the world?
UPDATE:
The ever evolved
Panda's Thumb
website offered up The
Intelligent Designer's Prayer
, so we may all share in the joy of The Designer's rhetorical anonymity... Amen
...and just to be fair, here's a couple of links from ID advocates (may the Designer bless their tiny, chest-cavity-located, highly efficient blood pumps):
My past posts on the goopy mess that is ID are simply screaming to be read, check out the
Category Tags
below and the
Recent Posts
menu in the sidebar for more...
Categories: Science, Intelligent Design, Religion, News, Politics, Law, Darwinism, Evolution, Creationism, Links