Tuesday, November 29, 2005
→ by
Danieru
On Imagination:
Midsummer Night's Dream - Act v. Sc. 1.
The poet's eye, in a fine frenzy rolling,
Doth glance from heaven to earth,
from earth to heaven,
And as imagination bodies forth
The forms of things unknown, the poet's pen
Turns them to shape, and gives to airy nothing
A local habitation and a name.
On Memory:
Macbeth -
Act v. Sc. 3.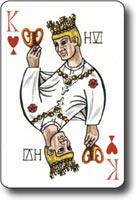 Canst thou not minister to a mind diseased;
Pluck from the memory a rooted sorrow;
Raze out the written troubles of the brain;
And, with some sweet oblivious antidote,
Cleanse the stuffed bosom of that perilous stuff
Which weighs upon the heart?
On Denial:
Richard III -
Act i. Sc. 3.
Oh, who can... cloy the hungry edge of appetite,
By bare imagination of a feast?
Macbeth -
Act i. Sc. 3.
Present fears
Are less than horrible imaginings.
On Illusion:
Macbeth -
Act ii. Sc. 1.
Is this a dagger which I see before me,
The handle toward my hand?
Come, let me clutch thee;
I have thee not, and yet I see thee still.
Art thou not, fatal vision, sensible
To feeling as to sight? or art thou but
A dagger of the mind, a false creation,
Proceeding from the heat-oppressed brain?
I see thee yet, in form as palpable
As this which now I draw.
On The Self:
The Tempest -
Act iv. Sc. 1.
Our revels are now ended.
These our actors,
As I foretold you, were all spirits and
Are melted into air, into thin air..
We are such stuff
As dreams are made on,
And our little life
Is rounded with a sleep.
Some quotes taken from
V.S. Ramachandran's
enthralling book
'Phantoms in the Brain'
. Other's found at
Project Gutenberg
.
(Incidentally, click the playing cards to see the whole Shakespearean deck...)
Categories: Quotes, Books, Shakespeare, Mind, Brain, History, Human, Science, Psychology, On the Nature of...
Labels: On the Nature of