Thursday, December 01, 2005
→ by
Danieru
According to Freud
there have been three great scientific revolutions that completely re-drew the boundaries which border human reality:
Copernican: Where our geocentric perspective of the cosmos was revolutionised by the concept of the human world, the Earth, as being one mere weave within the infinite cosmic tapestry of creation.
Darwinian: Where our view of man as the pinnacle of God's reality was overthrown by the idea that life evolved from nothing. The revolution in which our egocentric universe was crushed under the image of mankind as 'mere' hairless, ape descendants.
Freudian/Psychological: Where the self which governs all action within our minds was displaced by the notion of the unconscious. The control we perceive as consciousness is nothing but waves lapping on the shores of the innumerable archipelagos of reality the brain rules over.

Each of these revolutions was to displace mankind as centre of our world and thus humiliate our egocentric position. Yet, parodoxical as it may seem, these scientific upheavals have increased our intimacy with reality, adding meaning to our existence without invoking religion.
We are but one species amongst millions of mutation-governed organisms, ruled over by the nature of brains we have little understanding of and cast on our single planet afloat an infinite cosmological sea. Each shift exposing a deeper purpose, without God; each individual note when composed together dictates the flowing melody that is our existence.

I believe it is only a matter of time before the next great revolution in science; in reality arrives on our doorsteps.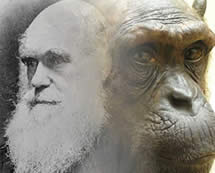 A shift in perspective that attains equal scientific, social and theological significance as the ones outlined above. Once again, this revolution will alter the nature of reality, as perceived by us, at the most fundamental level. So I ask you...

What will it be? Has it already begun? And finally, will religion still be able to find a foothold on the human psyche once it has happened?
Let your Earth-bound, ape-evolved, unconscious imaginations go wild on this one...
Categories: Reality, God, History, Religion, Science, Darwin, Freud, Copernicus, Future, Human, Evolution, Psychology, Space, Time