Saturday, December 03, 2005
→ by
Danieru
The Huge Entity
, ever alert at the call for action, constantly offers you new ways to survive its hugeness: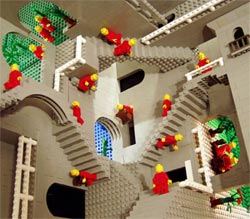 Post Categories:
when you know exactly what kind of enormous thing you want to engage with
Delicious Links:
weird, wonderful, humorous and downright interesting huge-links collected from around the internet
RSS Feed:
THE best way to make eye contact with the gigantic beast every time it is updated, you even get daily delicious links as part of your subscription!!
and introducing the most exciting new addition to
Huge Entity
heaven:
Tasty Morsels:
I have painstakingly tracked down the most viewed and commented on posts from the past 8 months. Browse, muse and peruse them without getting lost amongst the infinity of
The Entity
.
Huge Entity
goodness NEVER goes out of date -
(add your favourite money-back guarantee here)
Here's to my regular readers and everyone who has made this weblog a success recently. Think I'm doing something wrong? right? moisture inducing? Please tell me by
e-mail
or
comment on this post
...
Categories: Tasty Morsels!, Links, History, Weblog, Photos