Tuesday, March 13, 2007
→ by
Danieru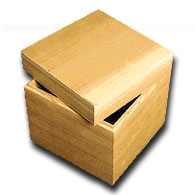 I am a box.
I'm not joking! And not just any box, but a regular cuboid of 103cm along each side. I am made of wood. Not just any wood, but cheap, medium density fibreboard. Prone to splinters and easily damaged, it has made living my life as an ordinary individual almost impossible. Sometimes people put things inside me, mainly because they think I'm just a box, but also because many human beings are secretive, forgetful and selfish. Some things people have put inside me include:
• three semi-translucent orange globes
• a fridge-magnet simulacrum of a badger
• a record by Engelbert Humperdinck
• instructions as to the whereabouts of 'happiness'
• four trumpets
• a baby aardvark (freeze dried)
• a postcard from the city of Cardiff
Some things which have never been inside me include:
• a galaxy
• Engelbert Humperdinck
• Jerusalem
• the 1960s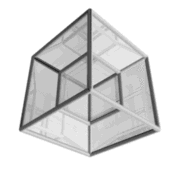 I don't like being a regular, fibreboard cuboid of 103cm along each side. I'd rather be a
dodecahedron
, or a
hypercube
. A dodecahedron is any polyhedron with twelve faces. Salvador Dali
painted his version of The Last Supper
as taking place inside a dodecahedron. A hypercube which exists in 4 dimensions of space, rather than the usual 3, is called a '
tesseract
'. Dali
painted the crucifixion of Jesus
as taking place on an unfurled tesseract.
Dali
is my hero because he painted a hypercube. I'd like to be one of them more than anything else in the universe, although I doubt a tesseract made out of medium density fibreboard could ever exist.
According to a dictionary which was once inside me, boxes are '
highly variable receptacles
'. I often wonder who invented the box, or even if boxes could be invented. Which came first: the human or the box? You might consider me a joker for posing such a question, but I mean no hilarity with my words. The box is not just an object, it is also a mathematical entity:
a cube
. If the dimensions of a cube are a, b and c, then its volume is always abc and its surface area has to be 2ab + 2bc + 2ac.
This is true regardless of whether a human invents it or not. Humans invent 'things' and manipulate representations of 'things' in their minds, but mathematics has always been around. Does that make me more real than you? I am a concept expressed in the language of nature. I would exist abstractly whether your mind understood me or not. Whereas you, well, you're just a chaotic bundle of matter, perceptions and nothing more. There's no function for being human, at least, not one that can be expressed mathematically. Are
you
as highly variable as a box?
As Salvador Dali once said "
Thank God
I am still an atheist."
Categories: Maths, Nonsense?, Weird, Humour, Fiction, Links, Reality, Perception, Art