Thursday, December 08, 2005
→ by
Danieru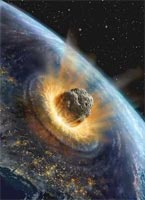 "Nasa has estimated that an impact from [asteroid] Apophis, which has an outside chance of hitting the Earth in 2036, would release more than 100,000 times the energy released in the nuclear blast over Hiroshima. Thousands of square kilometres would be directly affected by the blast but the whole of the Earth would see the effects of the dust released into the atmosphere." - link
Everyone remembers what they were doing when Martin Luther King was shot, when the World Trade Towers were attacked, when John Peel died... the biggies mean the most because they are ushered in with the most surprise. Here's our chance to finally know when a big moment might occur and all we can do is talk about ways to avoid it!

I say screw it. Nature is constantly throwing huge, space-born entities at Earth - usually for the better of evolution yet to come. It's not often that the entire human population of Earth get together to shit their pants over something. And besides, it'll be cool...

What will you be doing when asteroid Apophis hits? I've got me a few ideas:
Or just maybe it will miss after all... But just in case, what will you be doing?
Categories: Space, Future, Science, News, NASA, Asteroid, Extinction, Life, Evolution, Earth, Human, Nature, Links, Humour, Nonsense